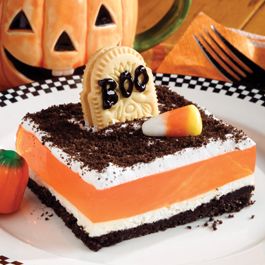 Courtesy of Kraft Kitchens
Serve With:
Have fun with your kids making this spooky Halloween treat and eating 1 slice each!
Servings:
15
Prep Time:
30 Min.
Cook Time:
n/a
Chill Time:
3 Hrs.
* 35 FAMOUS Chocolate Wafers, finely crushed (about 1-3/4 cups), divided
* 1/4 c. granulated sugar
* 5 Tbsp. butter or margarine
* 1 pkg. (8 oz.) PHILADELPHIA Cream Cheese, softened
* 1 tub (8 oz). COOL WHIP Whipped Topping, thawed
* 2 c. water
* 1 pkg. (8-serving size) or 2 pkg. (4 serving size each) JELL-O Brand Orange Flavor Gelatin
* ice cubes
* 1/2 c. water
* 3 CAMEO Creme Sandwich Cookies
* Decorating icings or gels
* 10 candy corn
* 3 pumpkin candies
1. MIX 1-1/2 cups of the wafer crumbs, sugar and butter in 13x9-inch pan. Press firmly onto bottom of pan. Refrigerate until ready to use.
2. BEAT cream cheese in medium bowl until well blended. Gently stir in 1/2 of the whipped topping. Spread evenly over crust.
3. STIR boiling water into gelatin in medium bowl 2 minutes until completely dissolved. Add enough ice cubes to cold water to measure 1-1/2 cups. Add to gelatin, stirring until slightly thickened. Remove any unmelted ice. Spoon slightly thickened gelatin over cream cheese layer.
4. REFRIGERATE 3 hours or until firm. 5. SPREAD remaining whipped topping over gelatin just before serving. Sprinkle remaining 1/4 cup wafer crumbs over whipped topping. Decorate sandwich cookies with icings to make "tombstones." Stand tombstones on top of dessert with candies to resemble a graveyard. Cut into 15 squares. Store leftover dessert in refrigerator.
Calories: 270;
Total Fat: 14g;
Saturated Fat: 9g;
Cholesterol: 30mg;
Total Carbs: 35g;
Sugar: 25g;
Protein: 3g;
Sodium: 260mg;